Partial is an evaluation status/result that can be related to a number of errors that occur during the evaluation process. Data services (3rd party) are typically responsible for the result.
How can you tell if a data service failed in an evaluation?
In most client cases, these evaluations will return a "Manual Review" result as it will exit the workflow once a failure occurs. This generally prevents additional services and associated call costs from being processed and viewed by an agent. How can you tell if a data service failed in an evaluation?

On the review queue and main evaluation page, you can easily identify when an error occurred by looking out for any red caution tags to the right of the run date. Hover over "!" to get more details on the why.
Once you click into the individual workflow you can confirm where the error happened. This can be confirmed in a number of places on the evaluation page. Any "partial" result means not all PII elements have been assessed.

If you see a partial result next to the outcome and want to understand how the outcome was decided please see this article on Data service failures for more information.
Another location on this page to confirm the service failure is under the "Data Sources" section of the evaluation page. Any service with an "X" was unable to be completed. To get a better idea of what went wrong you can refer to the raw response at the top of the page!

Any record of a failure will be recorded here. This page hosts all the information returned to us from each service used to evaluate. If an error occurred during the workflow it will return a 206 status code seen below.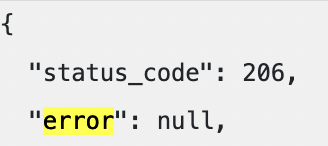 If any service did not run due to a service failure, we recommend re-running the evaluation to fix the issue. Most of the time, the service failure is temporary, but if the service fails again when re-running, please let us know by reaching out to support@alloy.co.