The Tag Settings page is where you can create new tags or manage existing tags by renaming them, deleting them, and more.
To find the Tags settings page use the left hand navigation menu to click on Settings and then Tags.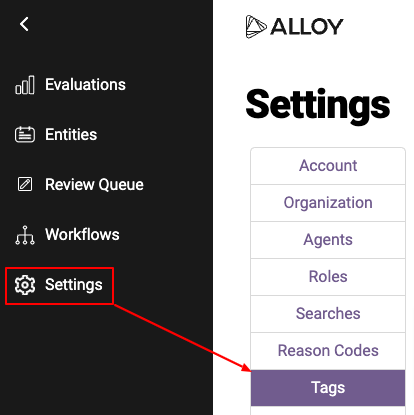 Access to the Tags settings menu and performing tasks require the following permissions. If you are unable to access the Settings page, please contact your Alloy administrator for assistance. These are the available Alloy agent Tags permissions. Your Administrator can assign appropriate permissions for your task(s).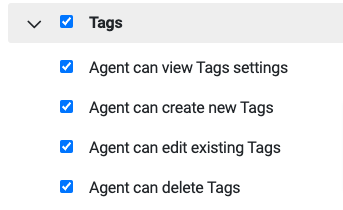 Now we can have a look at the various functions available within the Tags settings page.

I've highlighted a few key sections and will cover them in more detail below.
When you navigate to the Tags settings page you will be shown a list of your current Tags. The list will show:
Name

: Tag name.

Category

: The Tag's category. Category can be used to group Tags by PII type e.g. Address, Name, Email.

Versions

: The workflow(s) and workflow version(s) the Tag is used in.

Outcomes

: The outcomes assigned to the Tag. If you assign an outcome to a Tag, it will appear in the Outcome Reasons section on the Evaluation Summary.
You can sort your Tag list by Name, Category, or Versions by clicking on the small triangle icons located directly to the right of the column headers.
By default the Tags list will show a maximum of 20 Tags per page. You can adjust this between 20, 50, or 100 per page.
You can edit an existing Tag by clicking on the Tag's row. This will open the Update Tag menu where you can make your adjustments before saving.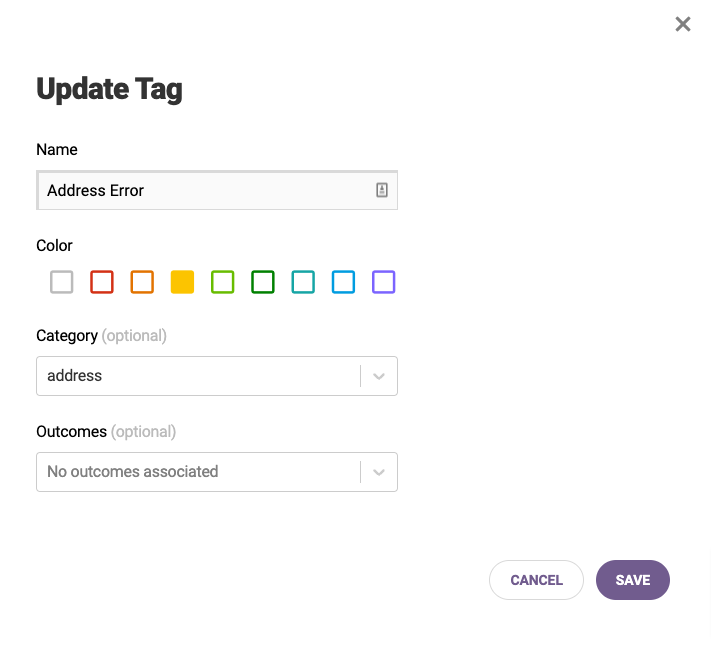 To delete a Tag, click on the Trashcan icon at the far right of the Tag's row. After clicking the Trashcan icon you will be asked to confirm your decision. Deleting the Tag will prevent you from saving new application versions that contain it.
To create a new Tag, click on the Create a Tag link on the top left of the Tags settings page. This will open the Create a New Tag menu. A color is assigned to the tag to visually identify and group similar Tags. Similarly, Category is an optional grouping mechanism allowing you to logically group Tags. Click Save to create your new Tag after adjusting to your needs.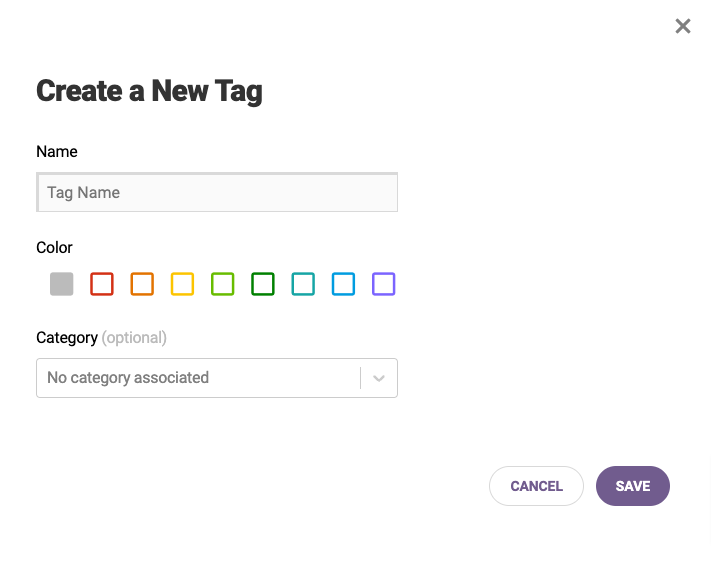 If you have additional questions about the Tags settings page, please contact Alloy's Support team at support@alloy.co.