(Please note that the PII shown in this article is fictitious and used for demonstration purposes only.)
There are two ways to start reviewing an entity evaluation:
Option 1: Start a review
Click the 'Start a Review' link in the upper right corner, and you will be taken to the oldest pending review:

Option 2: Review the specific evaluation
Alternatively, start reviewing any evaluation of your choice by (1) clicking an evaluation to reveal the drop-down under 'Applications', then (2) click on 'Review' to be taken to that individual manual review evaluation page.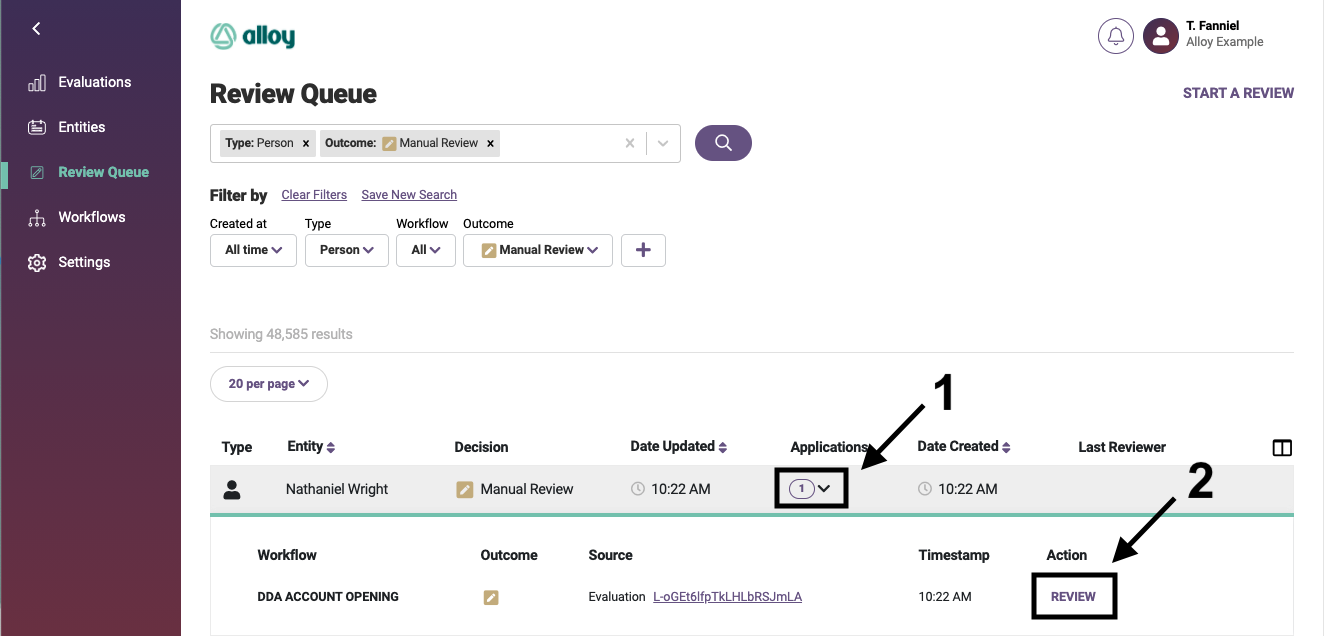 Either of these paths will lead you to an evaluation summary that looks like the screenshot below: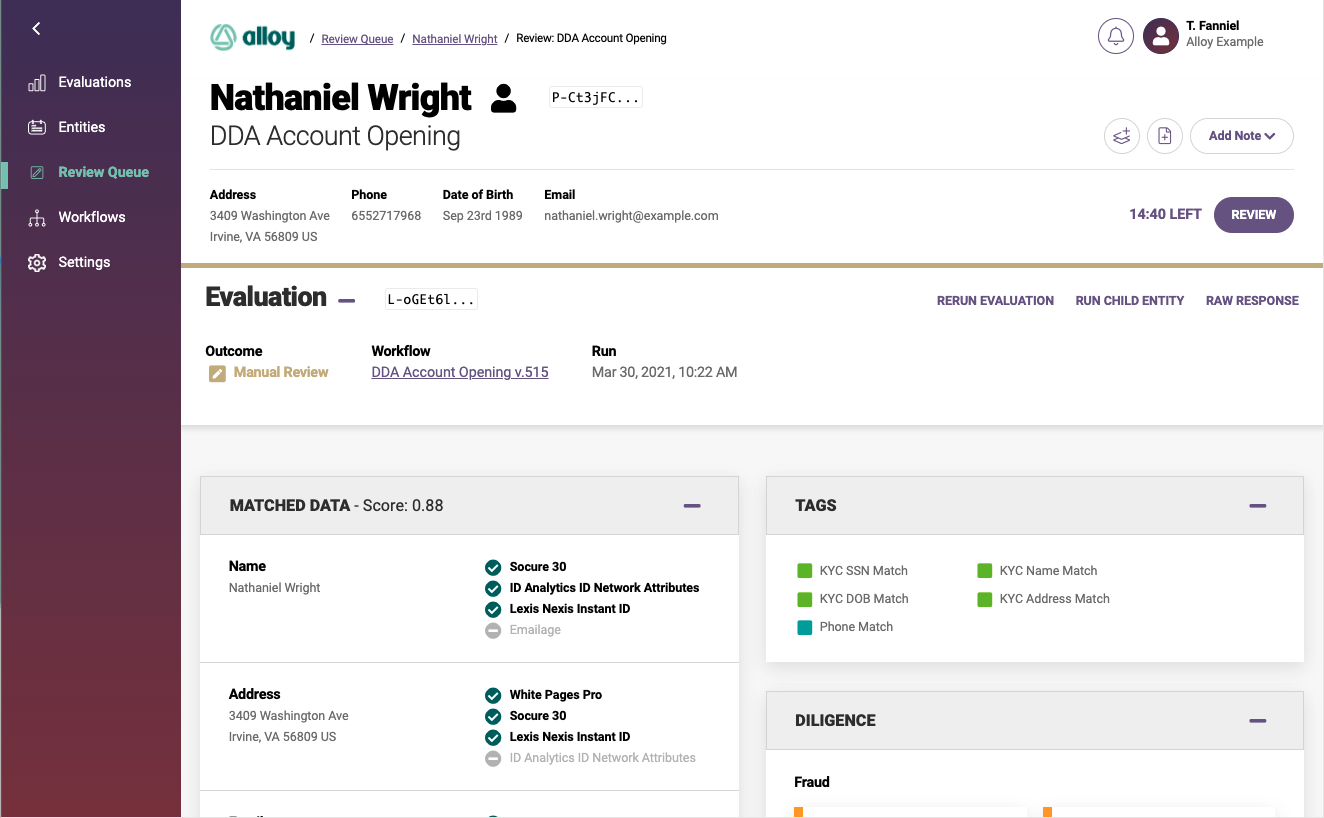 This page will contain all of the information that has been gathered about a particular entity during the specific application process that was run on that entity. This page contains, among other things:
Which third party data sources were run within the application

Which PII data was verified by which third party data sources

Which custom tags were returned within the application for this entity

Which further diligence was run within the application and any results returned, such as for watchlists, fraud scores, KBA questions, etc.

The ability to run a linked child entity (for example, a Director Entity for a Business Entity)

The ability to see all the raw data provided by the third party data providers
See our article on the Evaluation Summary Overview for further detail.
Review Mode
Once in review mode, this entity will be locked for 15 minutes (if the evaluation remains in review mode) to ensure no other analyst reviews it at the same time. A countdown timer can be seen in the top right hand corner of the page next to the "Review" button.
Take further actions
Typical actions to take at this stage of manually reviewing an application include:
Uploading a supporting document such as a utility bill. To do this, select the "Upload Document" icon on the top right corner of the page as seen below and attaching the relevant document:

See our article on How to Upload a Document for further detail.
Adding a note about the entity. Notes can be added by selecting "Add Note" icon on the top right corner of the page as seen below:


Decision the evaluation
Once you have reviewed the information available and have reached a decision on the entity, you can make a decision by selecting the "Review" button in the top right hand corner of the page:

A pop-up will appear where you will select the outcome for the evaluation from the list of options available. There is also space to add notes about the reason for the decision: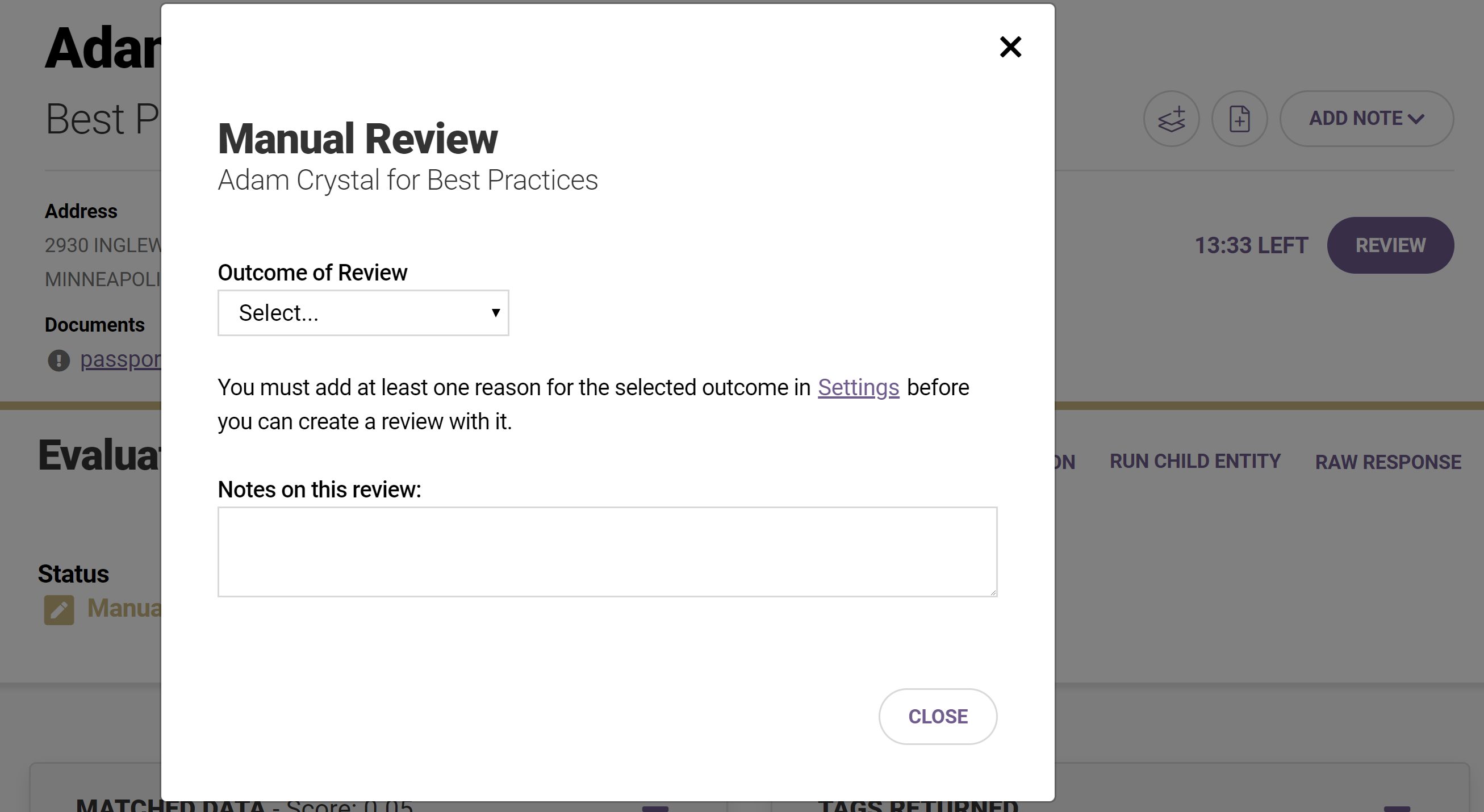 Once an outcome has been assigned to this evaluation, it will update within the Review Queue page and within other Alloy dashboard views.