A Data Service can fail due to a variety of reasons. A failure can be caused by data errors such as: wrong formatting, service outages, connection issues that may or may not have a known cause. If the Evaluation Summary shows a Partial Result, it means that there was a data service failure.

When the user hovers over the Partial result, you can see that the evaluation exited the workflow.

The default Service Failure Handling setting for the workflow is set to exit during a service failure. This setting can be adjusted based on the preference for a given data service node or tag node, but we generally recommend exiting the workflow.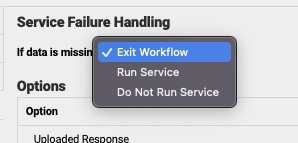 If any service did not run due to a service failure, we recommend re-running the evaluation to fix the issue. Most of the time, the service failure is temporary, but if the service fails again when re-running, please let us know by reaching out to support@alloy.com.