What is the List service?
The List service can be added to a workflow to set tags that can auto-approve or auto-deny evaluations based on matches to one or more supplied PII elements uploaded to the Denylist or Allowlist Settings.
The List service can be used most commonly for two things:
Allowlist

- is most commonly used to privilege special cases. For example, if you apply from a particular IP address, such as an in-branch location. That means the application is legit, and Fraud/KYC checks are not required.

Denylist

- most commonly used to block known bad actors from re-applying. If you see an email, an IP, or an SSN as "bad," you can add it to Deny List and auto-kick those people out of the workflow with a "denied" outcome.
The Allowlist and Denylist are Alloy services that can automatically approve or deny evaluations based on one or more input PII elements.

How does the List service work?
To better understand how the List service works, there are two types of PII to understand:
"Fluid" vs. "Not Fluid" PII
Fluid

means the PII has flexibility in fuzzy matching - for example, a first name can be "Alex" or "Alexander" and still be the same person; "67 St 2 fl" and "67th street 2nd floor" are both the same addresses.

Whereas

Not Fluid

has no flexibility in the data - for example, an SSN of 123-12-1234 corresponds to a specific individual and has no room for fuzzy matching.
In other words, non-fluid data is generally static and immutable, while fluid data has flexibility.
Fluid PII Examples
Not Fluid PII Examples
address_line_1
document_ssn
address_line_2
email_address
name_first

*

phone_number
name_middle

*

birth_date
address_postal_code
ip_address_v4
ip_address_v6
name_last

**

Any company ID number, account number, funding account number, etc.

Iovation's Device Alias (aka Device ID)
* name_first and name_middle are under "Fluid" because users can input initials or nicknames instead legal names established by identity documents in applications. Therefore, using only the first name is generally not recommended.
** name_last is considered more static and immutable than name_first and/or name_middle as users tend to input legal family names as established by identity documents in applications.

List Service Attributes
For every PII element you can match on, there's a "Match Score" and "Matched" attribute.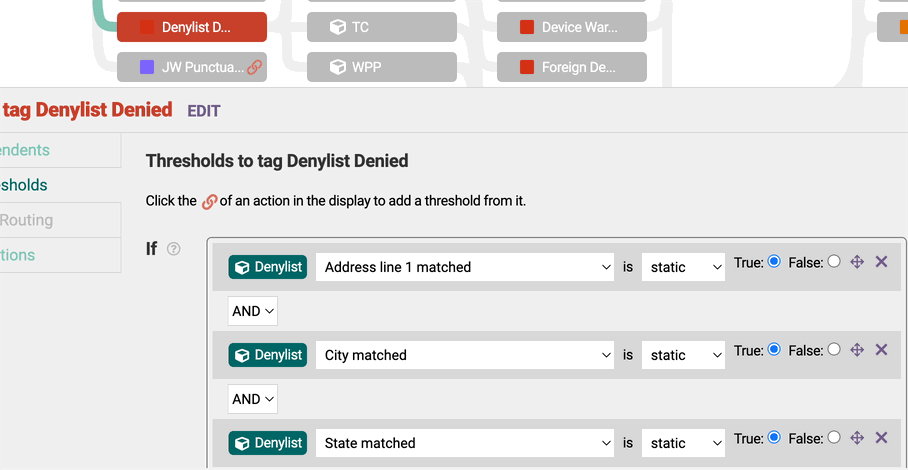 We recommend that non-fluid PII elements use exact matching using the Match Score attribute equal to 1 in the tag's threshold logic. For fluid PII elements where there can be flexibility in fuzzy matching, we recommend using the Matched attributes with a boolean true value in the tag's threshold logic or controlling the fuzziness of the matching by adjusting the threshold for the Match Score attribute (a score of 1 indicates exact match and anything below is fuzzy matching).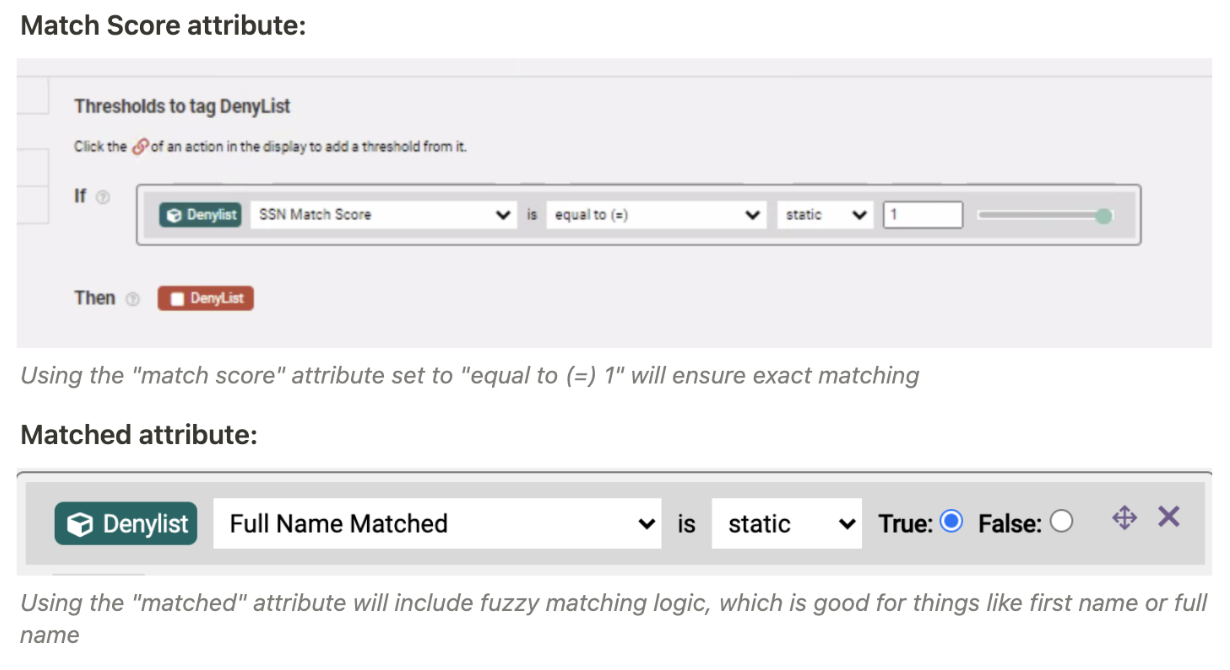 You can select attributes to check against the Allow or Deny List to auto-approve or auto-deny applications in the workflow.
Please don't hesitate to contact support@alloy.com for further assistance and consider these other helpful articles: